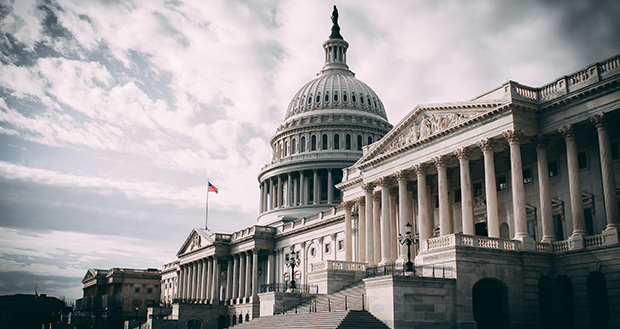 Pandemic Relief, Paid Leave and
Full USPS Function Are All on Hold
Senate Abandons Pandemic Relief in August
Failing to come to agreement on most elements of an urgently-needed second relief package, Congress has adjourned and deferred this issue until after September 8. The end of March's CARES Act has left tens of millions of Americans without the emergency $600/week employment income replacement from the Federal government and only scant unemployment payments from many states. Nearly 40 million people are in imminent danger of eviction. For struggling companies, The CARE Act's Paycheck Protection Program had allocated $659 billion in low-interest loans for small businesses with the condition that 75% be used on payroll for the loan to be forgiven, but the definition of "small" met with some disagreement and the short window left $130 billion unused by the expiration date of August 8.
Rationale for relief in March was based on epidemiologist advice that all but essential (variously defined) workers stay at home until sufficient testing and tracking levels were achieved, which is still not the case. Business leaders have noted that the severe lack of replacement income for millions of workers deters rather than restores the consumer discretionary spending our economy needs.
The Democratic-led House's Heroes Act and Republican-led Senate HEALS Act disagree in total amount to be provided from Federal coffers, monies for remote vs. in-person education, liability protection for employers who require staff to work on site, support for state and local testing, and more. Fortunately, both the Heroes and the HEAL Acts expand eligibility for Paycheck Protection Program loans and expand approved uses, as many firms could not bring back staff without funds for supplies, rent and other basic operations. The Heroes and HEALS Act also concur that the $1,200 per person from the CARES Act should be provided this fall.
"The interdependency of consumers, businesses and their governing bodies at all levels has been made devastatingly clear, not by ideology but by real-world outcomes," observes ASBC Executive Director Thomas Oppel. "Enormous catastrophes may happen, but where countries have instituted ongoing high-road business practices, a reasonable social safety net, and a fully functional, good-faith, coordinated government, the ROI is millions of lives and billions of dollars saved. ASBC is more committed than ever to initiatives that strengthen our shared resiliency."
Click to Tweet: American consumers and small businesses can't save our economy with discretionary dollars they don't have. Tell Congress to get back to work and pass Federal pandemic relief now: https://www.asbcouncil.org/save-our-economy-now
Business Decries USPS Disruption
American retailers, manufacturers and consumers have relied on the United States Postal Service since our earliest days. While digital advertising and communications options continue to decrease third-class advertising volume (down 36.4% since last fall), First-Class personal and business mail volume has fallen only 4.9%, and USPS package shipping volume has increased a massive 49.9% since last fall, due to ever-increasing online shopping and the massive surge of remote purchasing since COVID-19 hit. The USPS website currently notes that, "If the amount of point-of-sale receipt tape used annually in Post Offices was stretched end-to-end, it would be nearly 964 million feet and could circle the world more than seven times, or gift wrap the Washington Monument 2,105 times!"
Many of these purchase deliveries are of life-and-death importance, from consumer prescriptions to essential workers' protective products. For an economy in crisis, USPS's dependable delivery of Social Security, unemployment and other payments directly maintains consumer purchasing. What's more, full, reliable USPS function is absolutely essential to the continuity of our democracy, as the health crisis necessitates a vast increase in absentee/mail voting that starts next month.
Since Louis DeJoy was appointed Postmaster General, mail handling and sorting equipment, along with blue drop boxes, have been removed from numerous locations nationwide, and overtime has been forbidden. While DeJoy has agreed to suspend further cuts until after November 3, he said he will not reverse the removals already made. ASBC stands with leaders of businesses large and small to demand prompt, full funding for the USPS to immediately restore its full capabilities and cease its recent, harmful, cost-cutting. With its fairly priced, dependable, in-demand courier services reaching every home and business, regardless of geography, the USPS is a basic necessity for everyday life and commerce. It is also an essential vehicle for safe voting, the keystone of American democracy and a healthier economy, especially in this pandemic-menaced election year. Please add your business voice to this ASBC sign-on letter and tell Congress to restore the U.S. Postal Service now.
Click to Tweet: American businesses, veterans, seniors and other shoppers all depend on the #USPostalService, especially during this pandemic. Join the @ASBCouncil and tell Postmaster #Dejoy and the Board of Governors to #SaveThePostOffice: https://www.asbcouncil.org/usps-crucial-business-and-voting
ASBC Objectives Take DNC Convention Stage
Several key ASBC objectives relating to climate, infrastructure and the High-Road Workplace practice of paid sick leave made their appearance in the Democratic National Convention message in mid-August, indicating their importance to business is also felt throughout our embattled consumer economy. Notably, ASBC recently was honored to host prominent philanthropist/activist Tom Steyer as he presented Vice President Joe Biden's newly released Climate Plan, which would create 10 million new jobs, ensure transformative business development, and spur technological innovation to fortify the nation in the face of an ever-worsening climate crisis. Steyer was joined by business leaders who all offered their input on the role and responsibility that business has in addressing climate change. If you missed it, check out the recording.
Tell Congress America Needs Expanded Federal Paid Sick and Family Leave Now!
Paid Sick Leave, a basic High-Road Workplace practice, was thrust into the spotlight when the pandemic revealed many essential workers in the U.S. still lack this core benefit. It should be obvious by now that paid sick leave is not a favor we do employees but a public health necessity to protect us all. While we hope individual Congress members are mulling over the details of the Heroes Act (D) and HEALS Act (R) during their August break, ASBC encourages all business leaders to push for the urgent, common-sense requirement of paid leave for all workers, especially those deemed essential. Sign on at https://www.asbcouncil.org/support-providing-americans-insured-days-leave-act
U.S. Business in Deep Danger Without Functional Water Infrastructure!
Deteriorated water quality and increased flooding are damaging businesses and their communities across America and threatening even more. Making the essential investments in water infrastructure would create millions of jobs and save American businesses approximately $94 billion a year in retained sales over the next 10 years. Congress is currently considering multiple bills that would address the nation's critical deficit in water infrastructure and stimulate our severely threatened consumer economy. Tell Congress to act now!
________________________________________________________________

COVID-19 & Sustainability: Why Take a Systems Approach?
On August 11, ASBC CEO & Co-Founder Jeffrey Hollender and American University faculty member Victoria Kiechel highlighted how COVID-19, climate change and economics are interrelated issues and their effects have proven most damaging on small businesses and vulnerable communities. A systemic approach, not piecemeal silo efforts, is needed. If you missed this webinar analyzing how systems thinking can be an essential tool for business leaders and policymakers, check out the recording!
Media Coverage, Blogs, and More
This U.S. manufacturer's specialty products help reduce risk of healthcare-acquired infections by improving the quality of sterile surgical instrument reprocessing. A sustainability frontrunner, its SuperNova® and Case Solutions® products carry the U.S. EPA Safer Choice label. Its effective cleaning and personal care product lines are now also available to other businesses and consumers.
Marstel-Day Environmental Consulting, LLC
Marstel-Day helps government and private-sector clients to protect and permanently conserve natural resources and wildlife habitats. In 2020, the firm received the rare EcoLeadership Award from the Alliance for Workplace Excellence (AWE) for the ninth consecutive year.
NC3 is a multi-sector network of community leaders, entrepreneurs, financial advisors, investors and many others, working together to accelerate the shift to a sustainable, inclusive, democratic economy through local investment that fosters local ownership, local control, and wider prosperity.
The Council advances compost manufacturing, compost utilization, and organics recycling to help foster healthy soils, clean air and water, a stable climate, and a sustainable society. Members include manufacturers, researchers, government personnel and others. The Council focuses on large-scale compost manufacturing, marketing, facility operator training, certification and advocacy.
The Partnership fosters better understanding of Indians and Indian Country, and provides its own people with the knowledge and perspective of the "outside world" so they can make better lives for their families and themselves. It also partners with donors to do good work in Indian Country across an array of issues and programs.
Boys & Girls Clubs of America (BGCA)
BGCA's Native Clubs work to help American Indian, Alaska Native, Native Hawaiian, and American Samoan youth reach their potential as productive, healthy citizens. Its expanding national professional staff assists Native communities and promotes positive youth development while strengthening the cultural identity of Native youth through sustainable organizations.
The Gabrieleno San Gabriel Band of Mission Indians
This Tribe, a state-recognized sovereign Indian nation in Los Angeles County, CA, works to improve the quality of life for its citizens and the broader Los Angeles urban Indian community by creating sustainable economic development, maintaining health and education services, and promoting traditional cultural development.
Member News
W.S. Badger Headquarters Goes 100% Solar
W. S. Badger, award-winning manufacturer of organic personal care products and a certified B Corporation, has transitioned to 100% solar power at its Gilsum, NH headquarters, with the completion of a 486.7-kilowatt solar array consisting of 1,384 solar panels installed by another B Corporation, ReVision Energy. One of the largest rooftop and ground-mount photovoltaic arrays in the region, it produces zero carbon emissions. Rebecca Hamilton, Co-CEO of W.S. Badger Company notes that it's not only a testament to Badger's commitment to reducing its carbon footprint, "It's also a smart financial decision…as entering into a solar power purchase agreement (PPA) meant no capital outlay on our part to make it happen. This is a model that businesses can and should seriously consider." Learn more at badgerbalm.com.
Grove Collaborative Publishes Industry's First Plastic Scorecard
Grove Collaborative has published the consumer-packaged goods (CPG) industry's first plastic scorecard, providing full transparency into its use of plastic and the metrics it will use to track progress towards becoming plastic free by 2025. Grove hopes the industry will make similar disclosures and set bold, time-bound goals for plastic avoidance and reduction. It is committed to collaboration with its industry in coming together to move away from plastic.
Naturepedic Earns Top Marks for Transparency and Safety
Naturepedic's GOTS-certified Organic Baby Crib Mattress ranks number one in transparency and material safety tests, concludes an investigative study released by Clean & Healthy New York and the Ecology Center, leaders in the 90+ member Getting Ready for Baby coalition. Learn more in this article, "Naturepedic Excels in Getting Ready for Baby's Groundbreaking 'The Mattress Still Matters' Investigative Report." The article quotes Barry A. Cik, founder and technical director of Naturepedic, saying that, "It's reassuring to know there are organizations out there that are really getting behind holding manufacturers accountable."
Marstel-Day Offers Podcast on Climate Change & COVID-19
Marstel-Day Environmental Consulting offers a new podcast featuring @marstelday CEO Rebecca Rubin and @atkinsglobal Federal BU Director J.R. Steele on the impacts of #climatechange and #COVID19 pandemic on the #AEC Industry.
Boys & Girls Clubs of America Native Services Hosts First Virtual Teen Summit
Boys & Girls Clubs of America's Native Services team will host the "Be There" Virtual Teen Summit, its new, three-day conference uniting Native Club members across the Nation by providing a space for teens to be present and "Be There" for each other.
The summit will be held November 2-4 during National Native American Heritage Month. It was planned in recognition of how extremely challenging recent events in public health and social welfare have impacted the spirits of Native young people. At the summit, teens will have opportunities to connect with peers and discuss topics and events that are important to them; engage with dynamic speakers who will motivate, influence and inspire global thinking; and participate in age-appropriate team activities that promote STEM, environmental awareness, cultural sharing, and skills for health transition. Beyond the summit, additional activities will run throughout the month. https://naclubs.org/2020-virtual-teen-summit/
Princeton Hydro Speaks at Virtual Townhall with U.S. Rep. Mucarsel-Powell
Princeton Hydro's Director of Aquatics, Dr. Fred Lubnow, participated alongside U.S. Congress member Mucarsel-Powell (FL) on a panel of environmental experts in a virtual townhall on harmful algal blooms (HABs). The townhall, organized by ASBC's partners at the Clean Water for All Coalition, explored the public health, environmental, and economic impacts of the increasingly prevalent HABs in waterways across the country. Princeton Hydro, which serves on ASBC's Clean Water is Good For Business Steering Committee, works with several lake communities in New Jersey where HABs in the last few summers have shuttered the tourism economy, devastating many local businesses. Dr. Lubnow discussed the business and economic impacts of HABs and explained how Princeton Hydro is working with local communities to solve the problem through stormwater management. Watch the townhall.
Worker Co-op Conference
Philadelphia, PA | September 11 – 13
The Worker Co-op Conference is the only national convening dedicated to worker ownership and workplace democracy. Coming together will be worker-owners, cooperative developers, policymakers, funders, and other allies, to make space for connection, education, skill-building, and sharing to improve the lives of workers and their families.
2020 Delaware River Watershed Forum
Webinar | September 16, 10 AM ET
ASBC Executive VP Thomas Oppel will speak on Coalition for the Delaware Watershed panel, "Beyond the Plastic Bag: Achieving Success through Connecting Advocacy, Research and Unique Partnerships."
The Responsible Business Summit New York 2020
Brooklyn, NY | September 21 – 22
The Summit New York 2020 will convene 750+ leaders from across the globe to share their latest strategies, and more importantly, tangible insights into how they are helping deliver the required transformation of business. Jeffrey Hollender will moderate the session, "Case study: Restoration of the Natural Capital."
American Sustainable Business Council
712 H Street, NE, PMB 42, | Washington, District of Columbia 20002
202-660-1455 | replies@asbcouncil.org